5.0

5.0
Welcome to George Kingsley
George Kingsley Prestige & Performance is recognised as one of the most trusted and respected Specialist Used Car Dealerships in the UK.
In November 2016, we were proud and delighted to be shortlisted in the Top 5 Specialist Used Dealerships in the UK as chosen by Car Dealer Magazine in their Annual Awards in London.
We then went one step further in 2017 by Winning the Award for Best Customer Service in the UK - an award that we were honored to receive and in 2019 we were shortlisted again as one of the top Used Car Dealerships in the UK.
This consistency is a culmination of over 8 years of passion, tireless work and dedication.
Using over 30yrs combined experience in the German Sports and Prestige Market and also our extensive used vehicle market knowledge.
By taking the best of what we know and have seen elsewhere and leaving the worst firmly behind, we have steadily built an enviable reputation with a large and highly satisfied customer base both in the UK and internationally.
The Testimonials on our Website and elsewhere combined with national recognition for what we do mean a lot to us and we aim be build on this even further.
Our reputation has been built by sourcing some of the most desirable and high specification Marques available, from incredibly high Spec Mercedes S Class's and Super High performance Nissan GT-R's to exceptional examples of Volkswagen's, Audi's, even Fords and Saabs - all budgets are catered for here.
We value our customers highly, with many returning year after year or recommending us to others, our philosophy is that anyone can sell a car but only very few know how to look after their customers and believe we offer an unrivaled experience in terms of choice, value and customer service.
This is more than just choosing your next car, we provide the opportunity to offer a complete package from bespoke finance options, extended Warranties, and vehicle protection options.
Set in the Village of Rowhedge on the outskirts of Britain's Oldest recorded Town, Colchester; North Essex, we are idyllically placed to give our customers a non pressurised, relaxed and informal surrounding to view your vehicle of choice, discuss your requirements and make your decision.
We also offer a first class and personal vehicle delivery service allowing you to select your vehicle and have it delivered to your door , anywhere in the UK– to this day we have never had a vehicle rejected at handover on its condition, a proud achievement.
We cordially invite you to contact us to discuss your requirements, and look forward to assisting you in the purchase of your next car.

I recently purchased a secondhand Transit Custom from themWesley was the sales guy I dealt with he was such a nice guy and he could not have been anymore helpfulI am very pleased with my purchase and would highly recommend this company

James Green,

Transit Custom

Quality cars and exceptional service highly recommend

Very pleased with the service, shopped around for the car I wanted and ideally wanted to buy Direct from a dealership as I'd had great service & aftercare but these guys made sure they dealt with everything to my liking! I'm very fussy and can honestly say these guys delivered so if you only buy direct from the dealer then think again, they even sorted out a great warranty so I can go back to the main dealer with any problems! Fully recommend!!!

Stephen,

Range Rover Sport

I live in Northern Ireland and GK had the car I wanted. They made the process of buying it almost seem effortless. When I arrived the vehicle was sitting there gleaming. I was offered refreshments as soon as I got there. I was also offered extended warranty packages at good value, didn't take them buy was happy to be given the choice. The car too was as described and there was more than enough fuel to get to a petrol pump of my choice and not just running on fumes. Overall 5*!

Great friendly car dealership. Wesley was our salesman and he was fantastic from start to finish. I would definately buy from GK again. They have some fantastic cars for sale.

My partner and I were greeted by the lovely Wesley on a Sunday, he went above and beyond. As a first time buyer I had lots of questions and many things I was not aware of. He took the time to explain everything in great detail which I really appreciated. We spoke about different products, lenders, and other topics relating to my purchase. He even let us have a little browse around dealership for other cars that did peak our interest.The quality I valued the most about Wesley was his honesty and keeping me in the loop knowing how excited I was lol. I had transferred too much money and he let me know straight away and refunded it back. - I would not have known otherwise. As I only had a provisional and did not live too far away he also facilitated a free delivery!Come to the day of delivery, we were e-mailing back and forth ( really prompt with his replies) the gentleman delivering my car was lovely, also took sometime explaining bits of paperwork to me.I cannot recommend them enough, really happy customer!

Very good service and happy to purchase car today

We are very pleased with the BMW we recently purchased from George Kingsley. The customer service we have experienced has been outstanding. On our initial trip to look at the car we were greeted by Wesley. He was very friendly and helpful and not at all pushy. He was even happy to advise my husband on how some of the features of his car worked. Wesley has a huge knowledge of the different features of BMW's and was easily able to answer all our questions and show us how things worked. We were able to pick up the car at a time convenient to us, and again Wesley talked us through the features in detail helping to set the car up for us. I've since forgotten several things, but Wesley is very happy for us to pop back so he can explain them to us again. We are enjoying driving our car and would 100% recommend them and would be very happy to purchase a car from them again.We have experienced a very rare but high level of customer service. Thank you GK and Wesley.

Best dealer I got into! Done everything for me to have the car I wanted and didn't give up until I had it! Very friendly and polite nothing bad to say about them! Well done ???? and thank you for everything!

Very good experience at GK. Great attention to detail regarding both the car and answering any queries that I had. Wesley was very helpful throughout the whole process.

Martin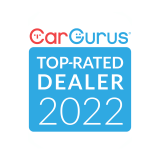 CarGurus Top-Rated Dealer 2022